Wolwachowka
Es gab um 1904/1905 den Ort "Wolwachowka" im Kirchspiel Shitomir (Quelle: PINGOUD): Wolwachowka, dt. Eigentümer, 370 evang. Einwohner, Bethaus, Schule mit 67 Schülern, der Pastor besuchte den Ort 2x im Jahr, zu diesem Ort gehörten die Nachbarsiedlungen: [Wolwachowka mit] Dobri Kunt, dt. Eigentümer und [Wolwachowka mit] Macharowka, Pachtkolonie.
English Translation:
There was the village around 1904/1905 "Wolwachowka" in the Parish Shitomir (source: PINGOUD): Wolwachowka, German land owners, 370 Evangelical Lutheran Inhabitants, 1 prayer house, school with 67 pupils, the Pastor visited the village 2x in the year, to this village belonged the neighbour settlements: [ Wolwachowka with ] Dobri Kunt, German land owners and [ Wolwachowka with ] Macharowka, lease colony.
Source: Description of village derived from Die Evangelisch-Lutherischen Gemeinden in Russland, Book 1, p. 188-229. This Ortsliste (list of villages) was compiled by Gernot Pingoud, the leader of the Lutheran Consistory St. Petersburg in 1909.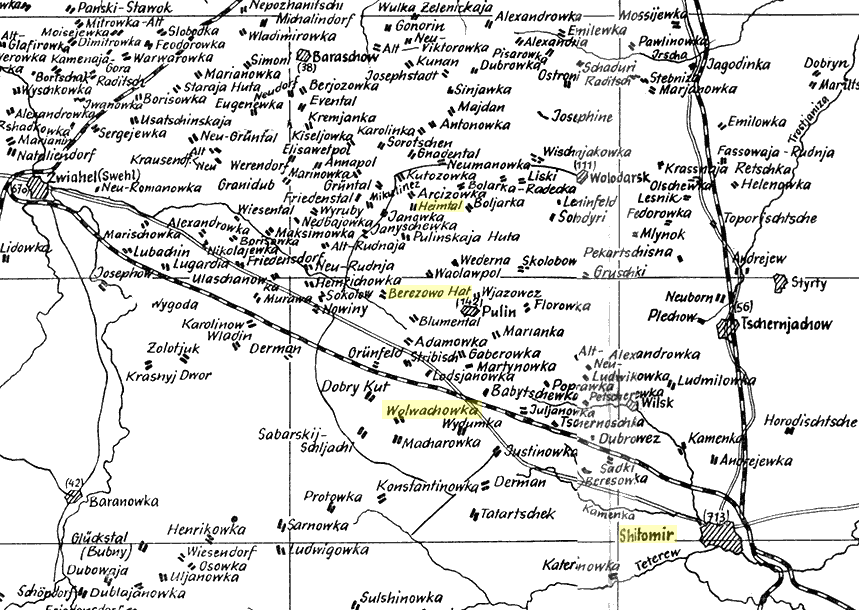 Extract from Map of German Settlements in Ukrainian Volhynia (Karte der deutschen Siedlungen in Ukrainisch Wolhynien). Cartographer: Karl Stumpp
Additional Maps
1889 1:200,000 scale map of Wolwachowka Area
Soviet era 1:100,000 scale map of Wolwachowka Area